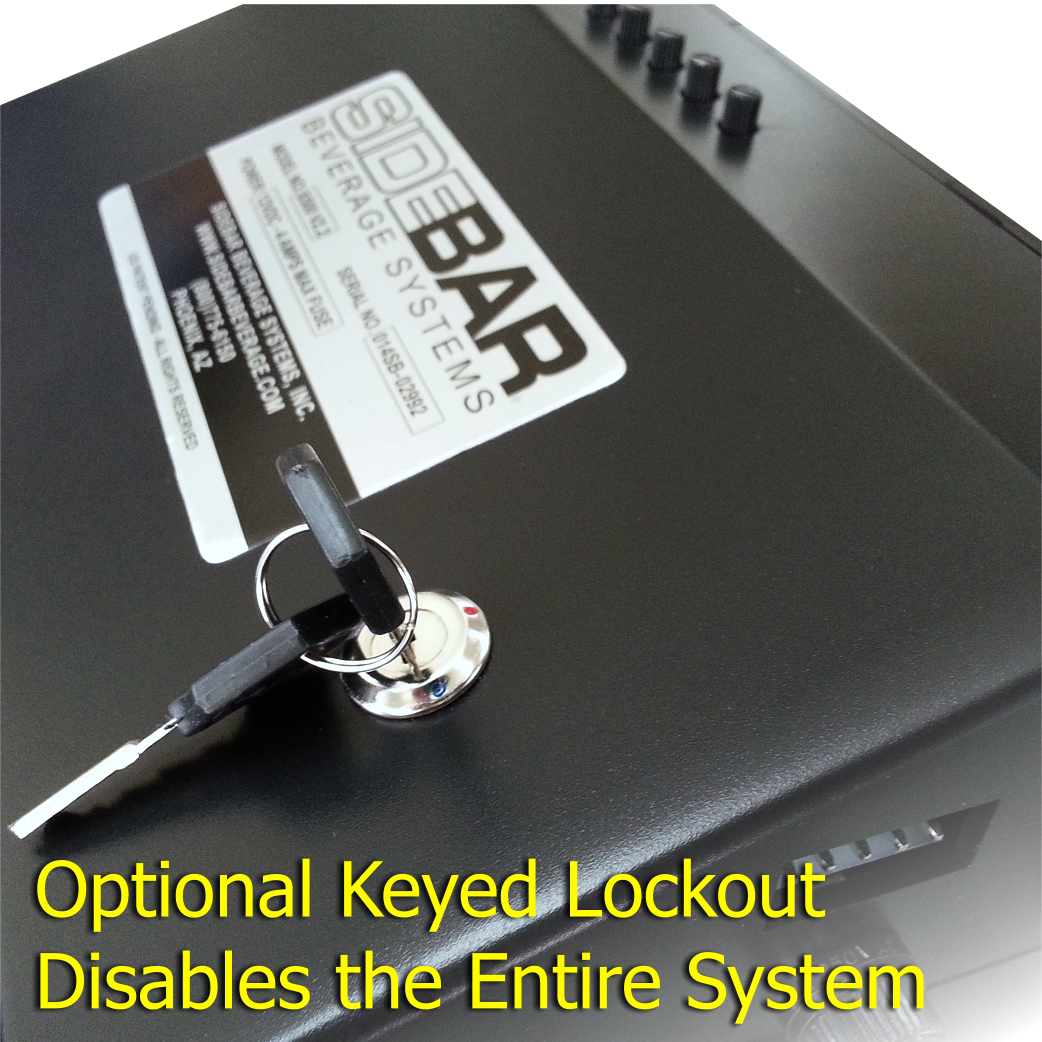 BLACK BASE, BLACK SPOUT 6500H (Factory Refurb.)
FACTORY REFURBISHED / DEMO SYSTEM*


SIDEBAR 6500H SERIES
- COMPLETE SYSTEM - BLACK BASE WITH BLACK SPOUT
ITEM# 6500H-BLK/BLK-R


We have demo or re-manufactured units available on a limited basis. We offer these complete SIDEBAR systems at a discounted price. Save a few dollars and enjoy!
6500H comes complete with everything you need to start serving drinks! Supply the drinks of your choice, install the faucet and pump unit assembly, then enjoy drinks at the-touch-of-a-button!

Five separate pumps transfer beverages from the supply bottles to your glass without inter-mixing. The dispensing spout houses five separate beverage lines, preventing any chance for inter-mixing. You can safely store your supply bottles under counter tops or any location up to 10 feet away from the dispensing spout.
Choose from two power options: 12VDC for hard-wiring into mobile applications (Boats, RV's, etc.) OR, choose the optional 110VAC power supply for use in home or commercial applications (plugs into a standard US 3-prong outlet). You may also choose the optional keyed lock-out feature. This will allow you to disable power to the SIDEBAR System and take the key with you! No key, No drinks…

Suitable for indoor/outdoor use.
*These units have been tested and work to factory specs of a new unit. Some units may have slight cosmetic blemishes or visual defects on the pump housing, which is typically mounted in a cabinet or out of sight. All factory refurbished units include new plumbing and supply lines. The keypad assembly and goose-neck spout (components mounted on the counter top) are in excellent cosmetic condition, or new.
Warranty is 90 days from the date of install.


Technical Details and Specs
Model Number
6500H - Refurb
Pump Unit Dimensions
Inches: 9.25W x 3.25H x 5.25D (Pump Unit Only)
Keypad Dimensions
Inches: 8.0W x 0.625H x 2.25D (Key Pad Only)
Power Requirement
12VDC - 5AMP Minimum for direct wire installation. Optional 110V Power Supply (Part No. IP119)
Fuse Rating
4AMP, 250V Slow-Blow Mini Fuse
Number of Flavors / Brands Served
5 Non-Carbonated
Warranty
1 Year from date of installation
Stock:

In Stock

Model:

6500H-BLK/BLK-R